OUR STORY
A TRUE WINE BAR IN THE HEART OF RVA.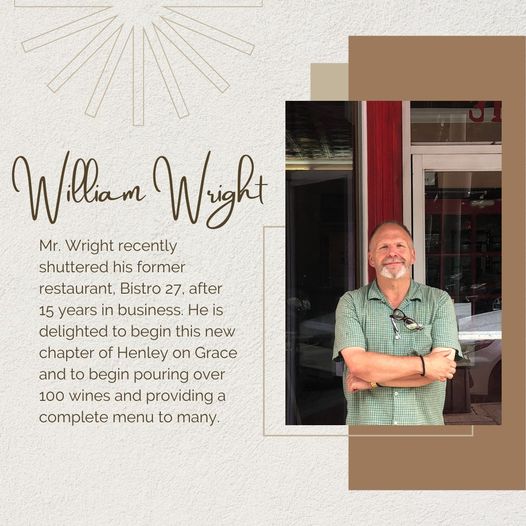 Everyone measures years in the restaurant business differently.
For Joe and Sheila Folley, owners of the Red Door on Grace Street, their age and the pandemic were reason enough to close their restaurant after more than 30 years in business. For William Wright, former owner of Bistro 27 and a restaurant veteran since he helped open the Commonwealth Park Hotel—at the time, Virginia's first five star, five Diamond-rated hotel—in 1978, age and the pandemic are moot points.
After closing Bistro 27 back in January, Wright tried retirement for nearly nine months. But after 40 years working 80 hours a week in restaurants, retirement simply didn't offer enough to keep him busy. A long-time Red Door customer who had also used Joe Folley as a mechanic to do 27's refrigeration and plumbing repairs, Wright hit the jackpot when he ran into the Folleys and they told him they'd decided to retire. "I wanted to get back to work and they had a restaurant to rent," Wright says with a chuckle. "Now here I am getting ready to open."
Henley on Grace plans to open its doors–which won't be red–in October, as a wine bar offering 100 different wines. It will share DNA with Bistro 27 in that Wright will cultivate a strong catering business for private parties and events in the space, which can hold up to 90 people. But it will differ in its menu from 27, with more salad and appetizer choices and an emphasis on lighter, fresher dishes using locally sourced ingredients. According to Wright, diners prefer to graze, a facet of how today's customers are very different from when he opened Bistro 27. "They're so much savvier now about food and beverage than they were," Wright explains, partially attributing it to the rise of chef culture and cooking shows. "Now, people who come out to eat know as much about food as we do."
With paint on his clothes and scraped knees, Wright has his hands full with a total redo of the space. Blues, browns, and tans have replaced the old colors and a marble floor was installed around the 8-foot bar. A lounge area seating ten is tucked into the front space facing the windows on Grace Street, while tables accommodate up to 55 guests. The intimate vibe is intentional after years in the cavernous Bistro 27, which seated over one hundred. "I've always gravitated to small, intimate places like Off the Record in the Hay Adams Hotel," he says, referring to the D.C. hotel's subterranean bar. "I knew that if I ever got to create a restaurant from the ground up, it would be a cozy wine bar. Henley on Grace is it."
As for why a seasoned veteran of the service industry would choose to keep on keeping on after 40 plus years, Wright admits it's the excitement of not knowing what's going to happen on any given day. "I'm not a 9 to 5, weekends off type of guy. I love the mix of activities," he admits, which range from booking groups and helping out in the dining room to mixing drinks at the bar and sweeping the front sidewalk to doing dishes because the dish person is late. "I can be placing orders for the restaurant, dealing with payroll, or getting my sous chef out of jail because I need him for a busy Saturday night. The list goes on and on, but it's okay because I love it. It's my world."
Staffing has always been challenging in the business, but Wright says he's figured out what matters. "I've told employees for 35 plus years that to work for me, you have to be a nice person, period. Many will fake it to get the job," he says. "But when the horns start to show, and they always do, I just say, 'Let's shake hands and be friends. Come back later for a beer on me, but you can't work here, sorry.'"
With an emphasis on variety, Henley on Grace will offer an ongoing wine list of 6 reds, 6 whites, 3 sparkling, 2 Rosés, and one orange wine. The other 82 wines will be available by the bottle or glass, the latter as long as the guest is willing to buy two glasses. Still, the opportunity to savor a $100 a bottle wine with the purchase of two $20 glasses is a unique one.
Despite four decades in the business, Wright is wildly excited about his new venture, which will be open Wednesday through Friday for lunch, six nights a week for dinner and weekend brunch both days. "I hope people feel like they're coming to a party at my house," he says. "I want theatergoers to feel comfortable stopping by before and after a show and since we're 2 blocks from two major hotels, I hope visitors find us, too."
Chances are, no matter when they come in, Wright will be there in the thick of things.
Written by Karen Newton – Style Magazine August 2021